It was probably inevitable.
Just in time for the vaccine rollout in the United States next week (as Moderna CEO Stéphane Bancel said, inventory has already been loaded onto trucks and will be on its way to destinations across the country. as soon as the FDA gives the green light) Facebook said on Thursday that it was "updating its policies regarding the coronavirus by removing false claims about upcoming vaccines."
The social media giant said it will monitor misinformation that has been debunked by public health experts on Facebook and Instagram.
"This could include false claims about the safety, efficacy, ingredients or side effects of vaccines. For example, we will remove false claims that COVID-19 vaccines contain microchips, or anything else that is not on the official vaccine ingredient list, "Facebook said in its announcement.
Theragripper: A nanotechnology drug delivery device from John Hopkins. Will the dust-sized device be used to deliver drugs and vaccines stealthily?
The company added that it would also remove Covid-19 vaccine conspiracy theories that we know today to be false, such as the fact that specific populations are being forced to test the vaccine against their will.
"As it is early and the facts about COVID-19 vaccines will continue to evolve, we will regularly update the claims that we are removing based on advice from public health authorities as they learn more," he said. Facebook added, but also said it "wouldn't be able to do that." to start enforcing these policies overnight. "
Previously, Facebook removed misinformation about Covid-19 that could contribute to "imminent physical damage". This included false claims or cures about the disease, that the coronavirus is caused by 5G or that it doesn't exist.
Let Big Tech and the corporate media know that they are powerless to stop the spread of the truth by visiting our store now!
According to the Independent, PA News Agency editor-in-chief Tom Phillips said social media companies should do more to tackle disinformation, but they also need to be extremely careful not to go too far. and break the public debate.
"We've seen a lot of internet platforms take tougher action on vaccine misinformation and I think that's the right approach. Could some of them go further? Yes maybe.
"But at the same time, it's important to remember the importance of free speech. It is not illegitimate to have questions or concerns about the vaccine and it is important that we do not react by simply trying to remove these questions. We enable people to ask the questions, get good quality answers and make decisions based on good quality information. "
A team of analysts at Goldman Sachs pointed out a few days ago that public confidence in COVID-19 vaccines has increased in recent weeks as the FDA moved closer to approving Moderna's first experimental vaccines and Pfizer.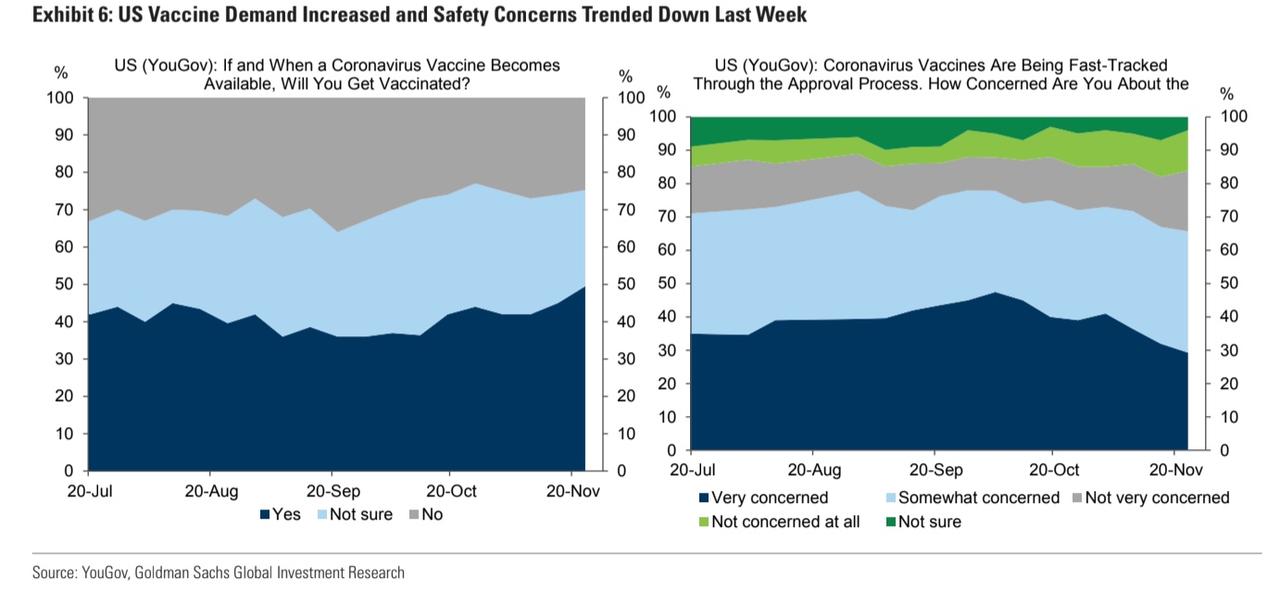 Or at least, that's what "public opinion polls" reflect as Dr Anthony Fauci and others repeatedly warn that boosting the "credibility" of vaccines by being as "transparent" as possible is of utmost importance.
Now, with Team Biden on the verge of entering the White House, Zuckerberg is doing what it takes to appease his Democratic critics.


#Facebook #bans #antivaccine #conspiracy #theories #rollout #begins #Dateway